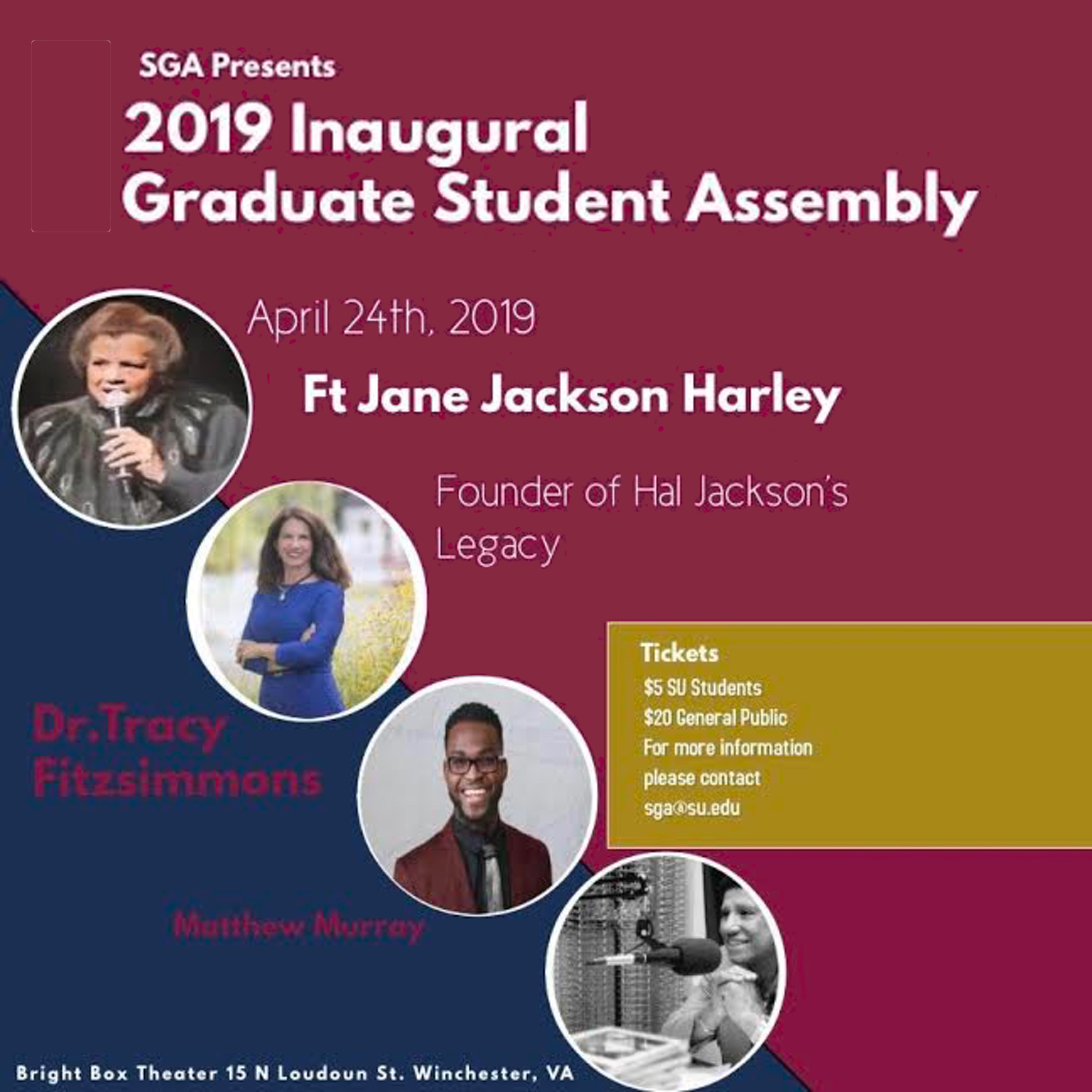 Date
Apr 24 2019
Time
7:15 pm - 8:30 pm
Cost
$20
Shenandoah University's 2019 Inaugural Graduate Student Assembly
WEDNESDAY, APRIL 24
DOORS: 7:15PM
PANEL & INTERVIEW: 7:45PM
CLOSING REMARKS: 8:15PM
PERFORMANCE: 8:20PM

The 2019 Inaugural Graduate Student Assembly will bring Shenandoah University's graduate students together to discuss "Leadership through Artistic and Social Activism". This topic will be facilitated in an interview setting at the Bright Box Theater, on the most historic walking mall in Winchester, VA. The interview will be conducted by the President of Shenandoah University, Dr. Tracy Fitzsimmons, and the institution's Vice-President for Graduate Affairs of the Student Government Association, Matthew Murray.
The interview will feature the previous Talent Coordinator for the world-famous Apollo Theater, and Founder of "Hal Jackson's Legacy", Jane Jackson Harley, as its distinguished panel member. Ms. Harley is notably recognized as the daughter of the prominent radio pioneer, Mr. Harold "Hal" Baron Jackson. Mr. Jackson is also notably known for creating the idea to make Dr. Martin Luther King (MLK) Jr.'s birthday a national holiday. His contribution included helping to solicit 6.5 million signatures on petitions to former U.S. Representatives to make MLK day a nationally recognized holiday. Mr. Jackson's achievements include being inducted into both the National Association of Broadcasters Hall of Fame (1990) and the Radio Hall of Fame (1995), along with a myriad of other prestigious accomplishments. This year, the 2019 Inaugural Graduate Student Assembly will also recognize the legacy of Harold "Hal" Baron Jackson as its underlying topic.
The Graduate Student Assembly and the Center for Public Service and Scholarship will also facilitate a writing contest regarding "Leadership through Artistic and Social Activism". It will award two $500.00 scholarships to the selected graduate students that best exhibit Shenandoah University's campus culture as conveyed in their submission. They are as follows: Compassion, Responsibility, Advocacy and Justice. The recipients will also be given the 2019 Jackson-Distinguished Leadership Award.
Light hors d'oeuvres and beverages will be provided.