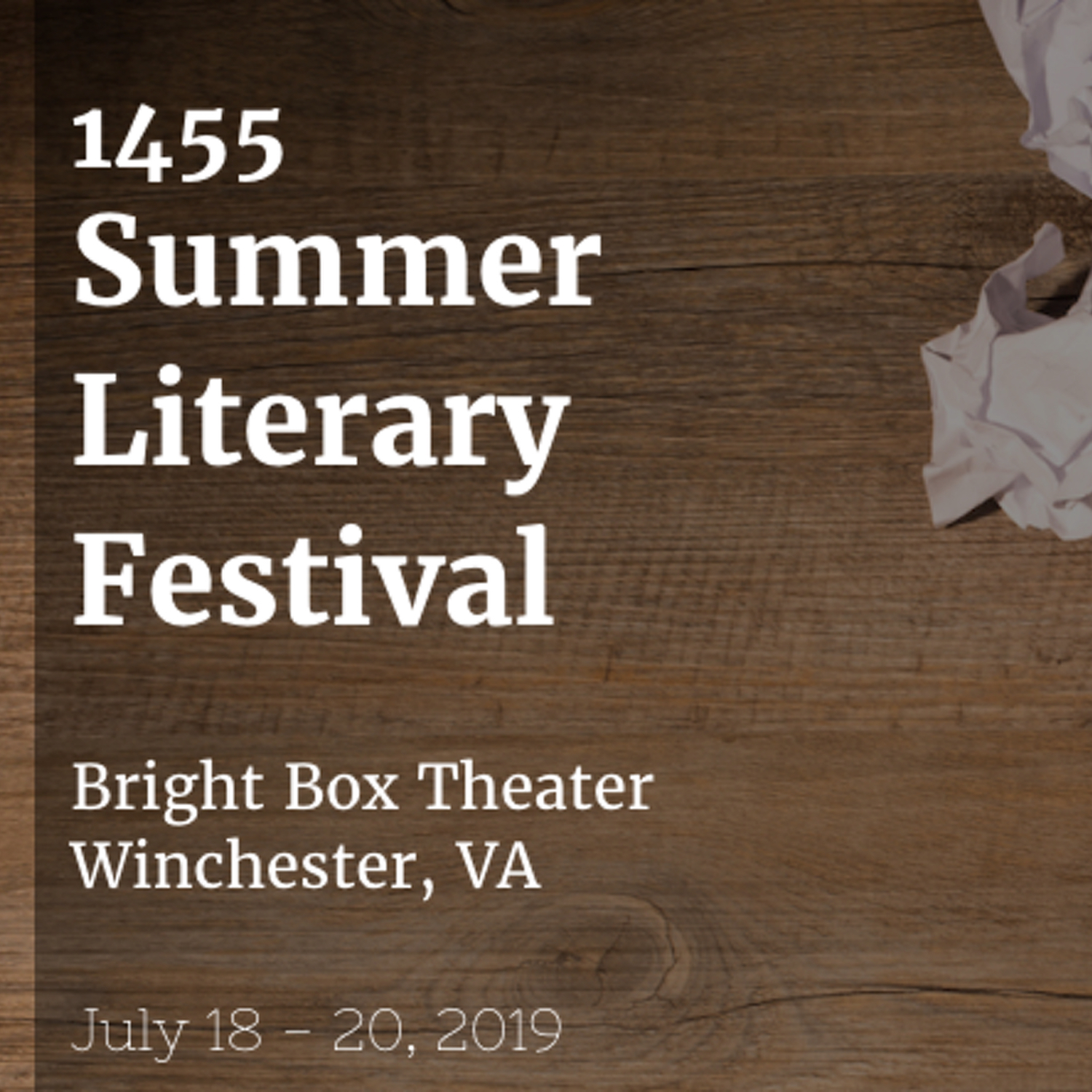 Date
Jul 18 2019

- Jul 20 2019
1455 Summer Literary Festival
JULY 18 – 20  •  FREE FESTIVAL FOCUSED ON WRITERS & WRITING
---
THURSDAY, JULY 18 – SATURDAY, JULY 20

The 1455 Summer Literary Festival is a celebration of writers, readers, creativity, and community, over three days in July.

1455's first Summer Literary Festival will take place on July 18-20 in downtown Winchester. The primary programming will be at the Bright Box Theater located on the historic walking mall, with other events at Winchester Brew Works, the Winchester Book Gallery, and Shenandoah University.
Having executed a robust programming calendar in 2019, 1455 (previously Virginia Center for Literary Arts, or VCLA) will continue to establish Winchester as a hotbed of creativity and community. After the success of 1455's monthly Author Series at Handley Library and a number of workshops at both Long Branch and the Barns of Rose Hill, Founding Director Sean Murphy decided now was the time to put together a multi-day event focused on writers and writing: a festival of ideas and celebration of community.
All programs are open to the public and free to attend. A complimentary boxed lunch will be provided to those who register in advance of the event. The festival will culminate with a featured reading, cocktail reception and dinner (an optional ticketed event).
MORE ABOUT 1455:
1455 is a nonprofit organization seeking to advance the appreciation of and passion for the literary arts through programs that support expression, education, and the sharing of writing and literature.
Our mission is to build and support a dynamic, innovative community that provides established and emerging writers with time and space to create, and the resources to encourage and inspire writers at all stages of their careers.
Located in the historic town of Winchester, Virginia, 1455 — named to commemorate the year Gutenberg's printing press, an invention and obsession it took more than a decade to perfect, began printing books on a prolific scale, effectively moving civilization into modernity, arguably the most democratizing innovation in human history — serves as a writer's residency, a writing retreat center, workshop space, a place of learning and creativity, and a vibrant community in support of writing and the literary arts.
In addition, it's a venue for readings, author talks, and events that share and promote the appreciation of literature, art, cuisine and culture.
At 1455, we believe in the magic of words, the transformative power of creativity, and the collective imperative of building community. Our mission is to provide time and space for writers to create, connect, and share resources to assist writers anywhere and everywhere.