Bright Box and Kaleidoscope Comedy have been bringing some of the best stand-up comedians in the biz to the Shenandoah Valley since June 2013.
Witty, diverse, clever, and colorful, our comics are both established national acts, as well as some of the hottest up-and-coming comedians, with many having won awards and/or appeared in films, television shows, and on late night talk shows.
Arrive early to get your first choice of seating, and to enjoy delicious offerings from our Bright Box Bistro Menu.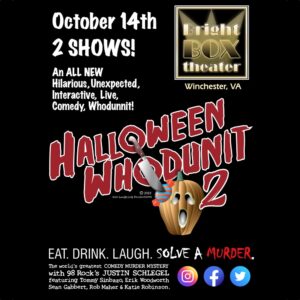 Eat. Drink. Laugh. Solve a murder. ...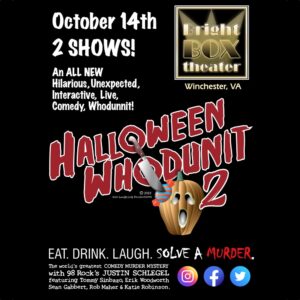 Eat. Drink. Laugh. Solve a murder. ...
No event found!
LIVEN THE PARTY WITH COMEDY
Don't just have the same old party or fundraiser again… do something different, fun, and memorable! Add some laughter and have the exciting atmosphere you deserve.
Did you know that comedy has a therapeutic effect that actually improves health? Hiring comedians for corporate events will break the ice at your next event and encourage friendly networking and deals to take place.
And the right comedian at a fundraiser is a fun and entertaining way to generate donations! Let us help you plan the perfect event to raise money for your organization, school, club, police or fire department, foundation, etc.
Whether you're looking for a clean comedian or someone more edgy, we'll help you find the perfect talent for your audience. No one knows how to work a crowd like a professional comedian.